Kitchen trends come and go but some styles are here to stay. One thing is sure — the latest kitchen trends keep inspiring kitchen remodels and incite renovation lust, especially those that have something for just about any taste and budget. Timeless kitchen trends are practical, beautiful, and make day to day activities simple and functional. These are the reasons some kitchen trends will never stop to excite and inspire homeowners. From quartz countertops and shaker cabinets to chic faucets and statement appliances, these are current kitchen fads that will continue to inspire kitchen renovations.
We will also take a look back at kitchen design trends 2018 and look at what is ahead of us in kitchen trends 2019. Learn what are the latest kitchen cabinet color trends and what kitchen trends to avoid. Make sure you help create a kitchen that will respond to any need, make everyday cooking and entertaining activities easier and simpler, and look gorgeous regardless of what is in vogue.
Cue renovation day! Inspire gorgeous kitchens and recreate the heart of any home with ease by following these kitchen trends that will last!
Kitchen Trends 2018 That Are Here To Stay
Kitchen trends 2018 were all about customizing cooking spaces with unique accents. Colorful kitchen cabinets, exciting patterns, bold contrasts, and natural textures were big. The accent was on infusing kitchens with original personalities and instilling a personal stamp in them. This emphasis on uniqueness, singularity, and excellence will continue to be very important in interior design in the years to come.
Matte Black Kitchen Appliances
One of the biggest kitchen design trends in 2018 was matte black appliances. Sleek and bold, matte black appliances are easy to incorporate in any kitchen style. Even more importantly, they don't show every fingerprint as stainless steel appliances do. The ease of maintenance may the most important reason why black kitchen appliances pushed stainless steel appliances from the top place.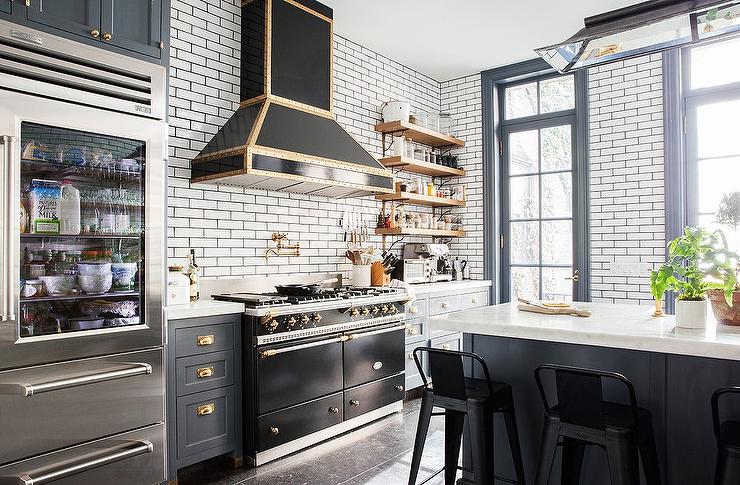 Minimalist, Clean Lines
New kitchen cabinet trends in 2018 included flat-panel cabinetry, sleek quartz countertops, and minimalist but high-end, state of the art appliances.
Two-Tone Kitchen Cabinet Color Trend
Considered an easy way to create instant interest in a kitchen, two-tone cabinets were a big hit and one of the most popular kitchen cabinet color trends in 2018. Creating a contrast between upper and lower cabinets or making shades of the same color flow seamlessly between the two areas inspired many beautiful kitchens. Most often, darker colors sit on the lower cabinets while lighter shades go on upper cabinets and shelves positioned higher up. With no strict rules on what colors and color combinations work best, most often seen pairings are white with black, marine blue, and dark gray for bold contrasts and white on light variations of green, blue, and wood tones for gentler kitchen designs.
Smart Storage Ideas and Appliance Garages
Easy and functional storage for kitchens is an everlasting trend. Depending on their lifestyle, homeowners may need more or less storage but space-saving ideas and smart, practical appliance garages will continue trending in 2019. More kitchen storage space and built-in space for toasters, coffee makers, and other appliances simply mean less clutter in a kitchen. Especially kitchens built for entertaining will insist on this kitchen trend.
Showstopping Quartz Countertops
One of the most popular kitchen design trends in 2018 were quartz countertops. Easy to maintain, anti*microbial, practically indestructible, with a wide variety of colors, patterns, and finishes, quartz countertops took the throne from granite countertops. The most popular varieties of quartz countertops are currently marble and natural stone inspired looks. These realistic natural stone patterns provide a timeless, luxurious look with a minimum of maintenance and care.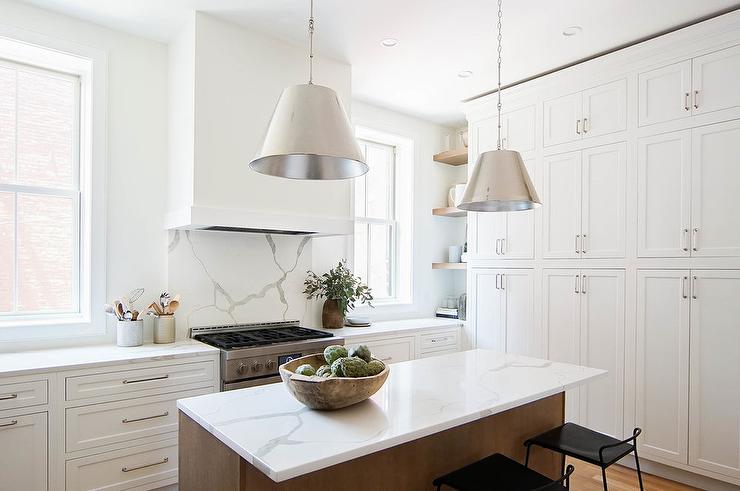 The Latest Kitchen Trends 2020 to Consider for Your Next Remodel Project
Although all current kitchen design trends and kitchen cabinet trends popular in 2018 will continue to be widely popular in the years to come, there are some novelties that you should consider in 2019 kitchen remodel projects. Mastering a kitchen remodel means understanding the needs and wishes of your clients but also realizing what kitchen trends and upgrades will enhance the kitchen space and the life of people using it. These new kitchen trends and kitchen cabinet trends will dominate kitchens in 2019.
Dark Kitchens vs White Kitchen Cabinet Trend
White kitchens are indeed timeless and will always have an appeal of a perfectly clean, impeccable looking, stylish space. However, stark bright white kitchen cabinets won't be that big in 2019. White kitchens are becoming more rich, intriguing, less uniform, and more memorable, with distinctive hues and moodier tones. Gentle, soft whites in combination with darker, vibrant green and earthy terracotta for a more rich look.
Dark kitchen cabinets will be more popular in the years to come. Adding drama and elegance to any kitchen and home, darker-hued kitchens set a specific, warm ambiance and instill a sense of class in an everyday room.
Concrete Finishes and Raw Materials
With the rise of minimalist kitchen interiors, concrete finishes are starting to trend. Kitchen decor is being trimmed down and natural, raw materials and finishes get all of the attention. Concrete countertops, flooring, and kitchen backsplash trends create amazing, modern industrial style kitchens suitable for any budget. Natural stone, jute, shiplap, and wood are going to be more and more popular.
Gold and Black for High-End Look and Timeless Glamour
Gold and black finishes make kitchens glamorous and bold. Black kitchen cabinet trends with gold kitchen hardware trend presents an easy formula for exquisite elegance. One of the most currently popular kitchen appliance trends are appliances finished with gold or copper tones. In combination with black kitchen cabinets, this new kitchen trend will make any kitchen stunning, regardless of its style. This combination works equally well in both traditional kitchens and minimalist kitchen interiors.
Hunter Green Kitchen Cabinet Trend
Whether you are going to classic, luxe, or cozy kitchen style, the Hunter Green kitchen cabinet color trend will execute your intention flawlessly. Providing a subtle pop of color, Hunter Green will be huge in 2019, according to kitchen designers. Try pairing Hunter Green cabinets with marble countertops and backsplash, and copper details for a refreshing look and supreme charm. Hunter Green kitchen cabinet trend may be currently on the rise but the English charm it provides shows just how timeless this color is.
Kitchen Trends to Avoid
Kitchen trends that showed impractical and not functional enough are those that interior designers will recommend you to avoid in the next kitchen remodel project.
Open Shelving
This is on the top of the list for many homeowners. An attractive trend for showcasing decor items that looks great in photos didn't show as a practical solution in real life and day t day use in the kitchen. Before you offer it as an option in a kitchen remodel project, make sure homeowners have the real need for open shelving.
Graphic Signs and Posters
Cute, inspiring quotes and sayings presented a kitchen trend for a while, but not anymore. Replace the big letters and framed quote posters with a real art or inspiring photography you will actually enjoy looking at and that will keep inspiring you. It doesn't only matter what is said but also how.
Brown Granite
With so many granite colors to choose from, it would be a shame to opt for a brown variety of granite. Brown granites usually feature busy patterns with many black, green, and other dark spots. This look gives the kitchen a heavy, dark, busy, and outdated look that will often look even cheap, say designers. Encourage your clients to opt for other timeless countertop options that feature a classic look that won't degrade the look of the kitchen.
Pot Racks
This kitchen trend was very popular at one point but now it is starting to decline. Useful and convenient in a restaurant and large chef kitchens, pot racks are not so functional in regular kitchens. The latest kitchen trend regarding pots and pans is to neatly stash them into enclosed cabinets and shelves. They should be out from the sight. Plan large drawers for bulky pots and pans. Keeping a minimalist vibe and minimizing the clutter will be a major kitchen trend in the years to come.
Create Beautiful Kitchens with Kitchen Trends that Will Last
New kitchen trends 2020, as well as kitchen trends 2018 and 2019, introduce timeless options for kitchen remodel projects. If they are trending, that doesn't necessarily mean that they are not timeless. On the contrary. Kitchen trends come and go, and, most importantly, come back unchanged or improved. The most important thing is to know how to choose the right kitchen cabinet trends, kitchen hardware trends, kitchen backsplash trends, kitchen appliance trends, kitchen sink trends, and kitchen flooring trends. Make sure you choose the ones that stood the test of time and make smart combinations.
We're sure these kitchen trends charmed you and inspired your projects. However, make sure to use them and combine them smartly. The kitchen is the most important room where you really need to be cautious about trendy choices. Don't choose something that will be out of sync with the rest of the kitchen or a current fad that will disappear in a year. Kitchen remodels are expensive projects and do-overs are even more expensive.
Follow these kitchen trends and make sure to address the lifestyle, needs, convenience, and personal taste of your clients when creating their dream kitchen. Simplify and speed up your design processes with our Estimating Software and Kitchen Design Tool, and make sure to provide the most enjoyable and inspiring experience to your clients. Remember, timeless kitchen trends are here all this time for a reason. They will give you the best results when incorporated smartly with the rest of the kitchen, home, and with one another.