A kitchen marketing strategy is a necessary element in a business plan of any kitchen and home improvement showroom. Competition is fierce and you need to fight for your place in the everchanging and fast-growing industry among other competitors from your area. You offer superior quality modular and conventional kitchen cabinets, beautiful countertops, and services that make a kitchen or home remodel easy. But, you don't seem to manage to reach enough homeowners, designers, contractors, and builders who need your products and services. Or not as many as you would like to?
How to promote kitchen cabinet business, anyway?
Effective marketing is the key for new businesses and for well-established kitchen and home improvement stores that want to reach more customers and accomplish more sales. When you think about how to market a kitchen business, note that improving your kitchen remodeling marketing and your kitchen cabinet marketing strategy with our expert tips and ideas can get you results that are not only fast but also long-lasting.
Follow these kitchen marketing tips to create a smart marketing strategy for both modular and non-modular kitchen cabinets. Get your newly opened kitchen business off to a great start. Improve and refine your plan of your well-established store and attract more customers every day.
Each of these expert tips has combined a wealth of experience and industry knowledge and will provide you with the masterful guidance you need to supercharge the growth of your business. You will find best marketing ideas for kitchen companies in our article.
Make Your Kitchen Showroom Easy to Find with SEO
How to market a kitchen business today and take it to the top of the Google search?
When you market your kitchen and home improvement business properly, you don't have to think about kitchen remodeling seasons. Best times for kitchen sales is always when you make your showroom well-known in your area.
Location-based kitchen marketing makes search engines share information about your business relevant to the search. As a kitchen and home improvement business owner, you should capitalize on location-based marketing. Make sure you get on top of the search when someone is looking for kitchen cabinets or kitchen remodeling services and products in your area.

Our Client: Kitchen Cabinets NJ #1 Place in Google
This means that you should optimize the content of your website for search. This is the best way to become and stay relevant online on the local level.
Add hyper-local keywords to the content on your website to reach audience local to you. Target your home state and city.
Add long-tail keywords. These are, most often, natural phrases you'd hear in conversation with your customers. They apply to the products or services you offer. These phrases are most likely the terms your potential customers use when searching for your products and services on mobile devices and voice-activated search.
Keep optimizing the content on your website and update it regularly to give your customers relevant, informative, and useful information.
Staying on top of the Google search will improve your kitchen remodel marketing strategy and help your potential customers find you faster and easier. This is one of the important marketing ideas for kitchen companies that will change the game. Get powerful and smart local SEO strategy to help your business or brand move up the rankings in search engines, get more walk-ins, and sales.
Download Our Kitchen Marketing Strategy Ebook Guide
Build high-converting and effective marketing strategy for your business. Get your newly opened business off to a great start by improving marketing plan of your well-established store & attract more customers every day. This free marketing ebook offers expert tips that combine a wealth of experience & deep industry knowledge. Reach more customers, acquire more leads, and start selling more kitchens, starting today. Chapters Include:
Help People Find You
Boost Local Testimonials and Reviews
Showcase Your Projects
Promote Your Business on Houzz
Create Winning Website Content
Localize and Personalize Search Ads
Engage with Local Audience on Social
Attract Customers with Simple & Powerful Website Design
Reach More Customers with Smart Email Marketing Strategy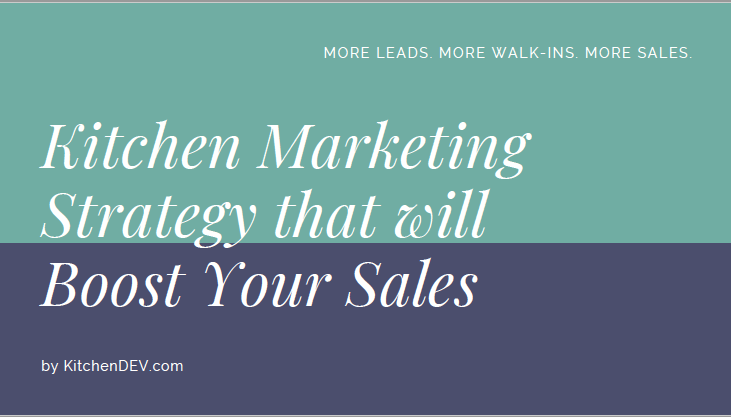 Plan Smarter Kitchen Marketing with Clever Project Showcases
How to promote kitchen cabinet business and how to create an effective kitchen cabinet marketing strategy are two questions that go hand in hand. Both can be answered with a kitchen advertising idea that produces great results for many local kitchen and home improvement showrooms and businesses — Kitchen Cabinets Projects Showcase!
If you are a local kitchen cabinet store, you know how hard can it be to increase the sales. Kitchen cabinetry is one of the most expensive items in a kitchen remodel. However, there is a way to show why your kitchen cabinet showroom is the best place to buy kitchen cabinets. You need a kitchen remodel marketing strategy. Except for the lowest price, offer your customers a unique view of how these cabinets look like in a real kitchen. Best cabinet marketing is the one when you show their beauty, their real value, and what do they mean for the people who bought them and are now enjoy using them.
Marketing Project Showcase on Website Example
If you are a builder or a contractor, showcase your work, and show your potential clients how their kitchen can be beautiful if you help them install it. A visual presentation of your work will speak a thousand words!
Start documenting your projects, take photos, display them on your website and, ideally, pair them with a review from a happy customer. Nothing will motivate your new customers better than this to pick up the phone and call you, or to pay you a visit today.
Improve Your Kitchen Marketing Plan with Winning Website Content
How to sell kitchens?
How to promote kitchen cabinet business?
You may be surprised, but your website is one of the most crucial factors.
In today's kitchen improvement and remodeling industry, making a sale is not a final step towards success. It is more likely that there is no, in fact, a final step. Success is a continuous process of many interactions with your existing and potential customers and clients. Before they decide to remodel their kitchen, as well as after they bring a decision, homeowners will need much information, advice, and tips regarding kitchen cabinet purchase, for example. They will look for this information online. Wouldn't you like to be the one who will provide them with the most relevant advice, the most useful tip, and fresh, updated information?
Content Marketing is one of the best ways to do kitchen cabinet marketing. Give your customers exactly what they need. Make them find your answers fast and easily for all the questions they have regarding their kitchen remodel. Write blog posts, landing pages, product and services descriptions to help your customers and to boost your cabinet marketing and countertops marketing. Increase your chances to be found in search and to explain to your potential customers why your kitchen cabinet showroom is the best place for their needs.
Perfect Your Kitchen Marketing Strategy with Localized Search Ads
How to promote kitchen cabinet business and how to market a kitchen business with paid ads and make sure your ads actually pay off? Localize and personalize them!
While doing kitchen cabinet advertising make sure your offers are specific to your area and region. These offers should be based on the needs of your audience, their age, their interests. Local Google search ads are one of the most trustworthy and the most cost-effective marketing ideas for kitchen companies to drive more leads and direct kitchen sales. Get the top spot in Google for a local search relevant to your kitchen business. Acquire a link to your kitchen cabinet showroom or kitchen remodel store info, a link to your website, as well as to directions to your store.
Why not use the opportunity to increase the number of calls to your store with a click-to-call link on mobile ads? This way, customers can contact your business directly from the Google search page.
Make sure to localize and personalize your paid ads as much as possible. They are CPC (cost-per-click) based and you will pay based on the number of clicks you receive. Find the best digital agency to create the most cost-effective and eye-catching PPC campaigns, tailor-made for your kitchen business.
Engage with Local Audience on Social to Boost Your Kitchen Marketing
Social media is another important place where you should connect to your local audience and customers. Social media made very easy for us to connect with people based on where do they live or work.
It's very easy nowadays to connect with people on social media based on their physical location. Kitchen and home improvement professionals interested in attracting a specific local audience should publish their address with a map. They should use location-specific information like hyper-local keywords in bios, posts, and hashtags.
As a kitchen cabinet showroom or a kitchen remodeler, use social media to maximize engagements with your audience and increase the awareness around your business. Having in mind that 48% of U.S. consumers engage with brands and businesses on social media (according to Hootsuite), you can safely conclude that social media is one of the most important places for your marketing. Many of your competitors are already using social media to improve their customer service. Twitter-based and Facebook-based customer service is not new. Many say that they appreciate the convenience, consistency, and speed of social media as a customer service platform.
Attract More Customers with Simple but Powerful Website Design
Everything that appears online about your kitchen cabinet or kitchen remodel business should reflect your values in the best possible way. Social media, website content, reviews, and ads will greatly benefit your smarter kitchen marketing strategy but website design will also say a lot.
Just as your kitchen showroom is the face of your business in the physical world, your website is the face of your company in the online world. Today, most customers will first start looking for you online, so make sure you leave the impression you want. Intrigue your audience with a simple, adaptable, intuitive, well-optimized website, easy to browse on all devices. Have the needs of your customers in mind when designing a website. Make it easy for them to find what they are looking for as fast as possible.
Modular Kitchen Marketing Strategy
People are falling in love with modular furniture, especially modular kitchens more and more. Modular kitchen cabinets are flexible, ergonomic, well-designed, convenient to use while maximizing storage, and budget-friendly. As a modular kitchen cabinets store owner, you recognize the importance of a modular kitchen marketing strategy.
So, how to promote modular kitchen business?
Whether you sell only modular kitchens or both modular and non-modular kitchens, you are surely aware that modular kitchens' marketing strategy may be somewhat different than the strategy for non-modular kitchens.
Create Awareness about Modular Kitchens
Most of the homeowners may have heard about modular kitchen cabinets but not all of them fully understand all the benefits this specific concept offers. So, make sure they do.
Create and upload testimonial videos of your customers who bought modular kitchens in your store. Show other homeowners their unique designs and various looks. Seeing is believing. Their flexibility, sleek look, and durability will be obvious. These videos will make it clear that modular kitchens are perfect both for homes, residential buildings, and commercial clients and businesses. 
Form a Special Relationship with Local Contractors and Builders
Modular kitchens grow with their owners. Local kitchen contractors and builders remodel, install, and build new kitchens spaces and can be your best customers. Make connecting with them a strategy of your modular kitchen business. To make the relationship fruitful for both you and them, start recommending them to the homeowners who are your customers and are searching for trusted local contractors and builders.
Establish Online Presence and Create Ads
Modular kitchens are the hot new thing in the interior design world. Online presence, both on the website and social media, with purposefully created ads both on social media and Google, are a must. Homeowners who are looking to remodel and innovate their kitchen spaces will be happy to find you. So why don't you help them?
How to Promote Your Kitchen Business FAQs


How can I effectively target my audience in the kitchen industry?
Go where your customers are. Today, when kitchen remodeling, upgrading, and boosting have become very popular among homeowners in the US, finding your customers is not hard. People love exploring new kitchen styles on social media. Pinterest and Instagram are two favorite social media channels where most kitchen brands promote their new cabinet, countertop, and backsplash styles. Interior designers are also on social media. However, your website content should be the hub for all of your marketing activities. Social media is where you find and entertain your audience. Your website is the place where you draw them from social media and convert them.
How can I use content marketing to drive customers to my kitchen business?
Content marketing will drive more customers to your kitchen business if you use the right strategy to do it. It will help you to attract, engage, and retain the right audience. Create relevant, engaging, and up-to-date articles on new kitchen trends, helpful renovating tips and tricks, remodeling guides, etc. Then share these articles on social media, targeting effectively the right audience. It is highly suggested to create and share not only articles but also videos, podcasts, and other engaging types of media. This content marketing strategy will establish you as an expert in your field of work, establish your brand, and keep your business top of mind with your local audience and customers when comes time for them to remodel their kitchen.
What are some effective ways to showcase kitchen products or services in advertising?
Effective ways to showcase kitchen products or services in advertising are those that enable your audience and customers to see what you provide and how that benefits their home and their life. Post pictures of your recent kitchen remodeling projects, show what kind of products you used and how did you combine different cabinets with countertops. Explain how you coordinate different elements of the kitchen and how you establish and implement what your customer wants with your expertise and knowledge and best practices. To do this use articles, social media posts, guides, tips and tricks, videos, and podcasts. Instagram stories and reels are very effective. Pinterest can also showcase your kitchens via posts and videos. If your targeting at working on multiple, commercial kitchen remodeling projects, use LinkedIn for your advertising.
How do I optimize my website to have better visibility and conversion rates?
To optimize your website to have better visibility and conversion rates, just use the best, tested, and proven practices. Search engine optimization is a necessity when you work on your website. SEO covers all — from writing and structuring your texts to optimizing your images and videos and making them easy to use on all types of devices, from laptops to smart phones. Use attractive photos of your recently finished kitchen renovation projects. Make sure to establish clear and concisive call to action that will truly inspire a call to your business and an estimate request. Also, don't forget about featuring rewievs from your customers. These will greatly attract new customers.
What are the best practices for email marketing in the kitchen cabinets industry?
Email marketing is a highly effective way of keeping your current customers engaged and attracting new ones as well. You can rely on email marketing as a top way of keeping in touch with your audience or as one of the channels through which you send them the latest news about new trends in the world of kitchens or about your business. But to be successful in email marketing, and make your customers love the news they receive from you, you need a smart and effective email marketing strategy. Sending one brief, highly informative newsletter a month is enough to keep your customers and audience interested, engaged, and motivated. We recommend MailChimp as the best way to send newsletters to your customers.
How to handle negative reviews in the kitchen industry?
Receiving reviews from your customers is exciting. It is also one of the best ways to promote your business by not saying the words of praise yourself but letting others do it for you. Customer reviews are very effective at attracting new customers. However, when reviews are not great, and this happens to everyone, we have a few tips to share on what to do. When it comes to negative reviews, it's not what the customer said but how you responded and how you handled the situation. So we advise you to take in the review with humility and open mind, and respond professionally and calmly as soon as possible. Be transparent and offer a solution if possible. Offer an apology if it's in order. And don't forget to always be positive.
How to use customer testimonials and case studies to build trust in your kitchen business?
Use customer testimonials and case studies to build trust in your kitchen business. After successfully completing a kitchen remodeling project, kindly ask your customer to leave you a review on Google, Facebook, Yelp, and Houzz. Some of the customers will be able to use all of these platforms, while others will be able to use only some or one of these platforms. Ask them to also post photos of the kitchen if possible. Then showcase these reviews on your website, social media, and even on the walls of your showroom. Customer testimonials will bring you increased sales, expert positioning, improved services, and more customers.
How can I promote my kitchen business?
Promote your kitchen business by implementing the right approach and strategy. This approach or strategy should be customized and adjusted to your specific local business. Not all marketing efforts will work for you as well as for some other kitchen businesses in another area and with a different population structure. The first thing to do is to define your ideal customer and your target audience. Then you should research all of the competition in the area. This should be followed by creating an online presence with a beautiful website and active social media. Don't forget to offer promotions and deals to your customers. After the remodeling is done, don't forget to encourage customer reviews. Treat your customers with respect and kindness, and always be highly professional in everything you do. Try paid advertising as well but make sure to carefully target the audience to make them effective and worthwhile.
Smart Kitchen Marketing Ideas for Long-Term Success
As a kitchen cabinet showroom or a kitchen remodel store, you have your own, unique voice, and your ideal customers that you want to reach and form long-lasting relationships with. Applying all the above kitchen marketing ideas to your strategy will go a long way in securing success for your business.
Make sure to stand out from your competition and use every opportunity to show and prove why your kitchen cabinet showroom is better than your competitor's. Local marketing is the most effective way to create authentic interactions with your customers online, to show them that you speak their language and that your business addresses their pain points and fulfills their needs.
Show your audience the human side of your business. Let them know that you, as a kitchen and cabinet professional, understand what they need. Then show them that you have what they need — for example, our Cabinet Retailer Suite. Get more excellent reviews with our Reputation Management Software. Estimate smarter and win customers faster with our Dealer Portal & Order Automation.
Simplify and innovate your processes to get to your customers faster than your competition using our tools. Use our professional marketing tips to perfect your kitchen cabinet marketing strategy and kitchen remodeling marketing. Stay on top of the news and current events in your industry. To start driving more direct kitchen sales, contact us today.