Choosing a marketing and advertising agency is a challenging process. You will invest a lot of your time and hard-earned money into this new partnership, so you should carefully evaluate your options. Most retailers are smaller companies, so hiring a marketing agency is like adding a marketing addition to your company. This is why the quality of your marketing agency is paramount. Evaluating a marketing agency is not an easy task, so we've come up with some bullet points that should help you make the right decision. Follow these criteria when selecting your new agency or reevaluating your existing one, and you'll be set up for business success!
Does Your Marketing Agency Understand Your Business?
It's easy to get carried away with flashy social media presence and big talk, but does the agency you're considering know your industry? Do they understand the ins and outs of your day-to-day work as well as the big picture? When looking for a marketing agency, you should first consider the agencies that have experience in your chosen field of business. These types of agencies are tried and true, so they can most likely recognize your needs, anticipate them and create a winning strategy. You know they've done it before! Industry experience is invaluable when it comes to marketing efforts and it will save you a lot of time and money that would normally be spent on a lot of hit-and-miss ideas with an agency from an unrelated field of expertise. Having a partner that knows how your business operates from the inside out, has been through the same challenges, and knows the pain points of your business is priceless. So, in conclusion, if it's possible, always look for industry experience!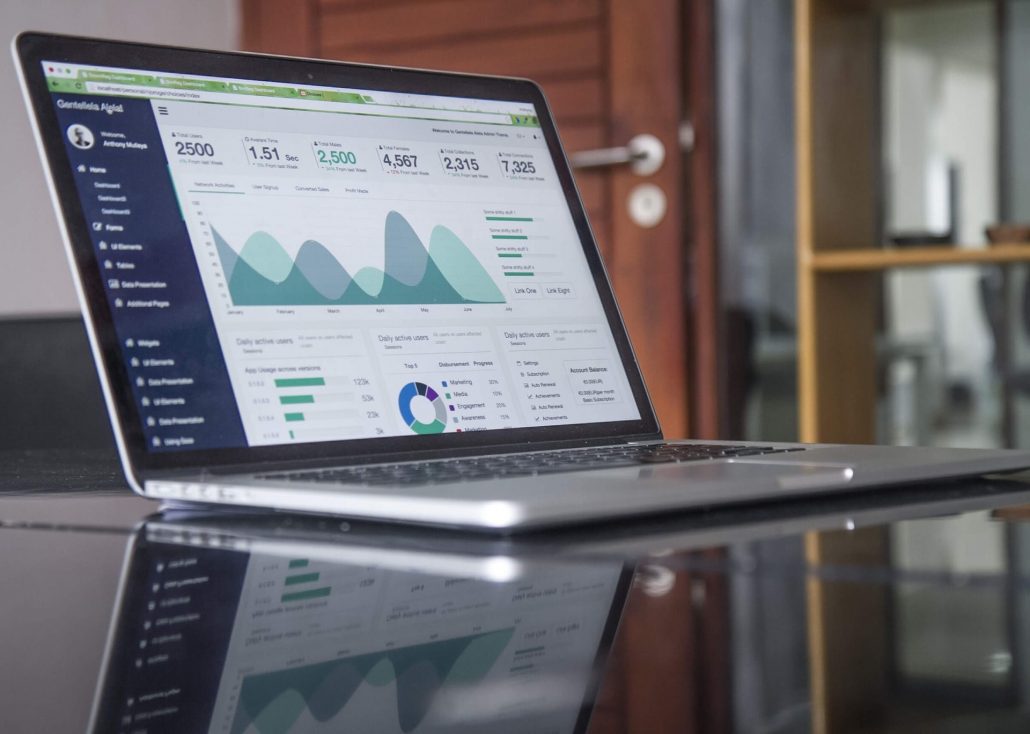 They Talk the Talk But Do They Walk the Walk?
Many agencies have perfected their sales pitches, but can they back them up with facts? One of the best ways to evaluate a marketing agency before you enter into business with them is to check their previous work. You can do this by going through their case studies if they have any or simply by engaging in conversation and asking relevant questions about previous projects. If their other clients are from similar backgrounds or have goals that align with yours, you can easily assess if their marketing efforts would suit your company as well. Seasoned agencies will be able to provide you with case studies and reports that will put your mind at ease and help you build the trust necessary for this type of partnership. Another green light when evaluating a marketing agency is — glowing reviews from clients! In 2021 you know you can rely on people to leave both positive and negative feedback on just about anything! Don't forget to check your potential agency's reviews and, if possible, have a chat with their previous clients!
Is It a Match? Personality, Prices, and Services
One of the easiest things to check is: does your potential agency offer the services you need? It's very common to find generalized marketing agencies that claim they cover a multitude of services, but it's often best to find an agency that specializes in the exact services that your business needs. This can often mean you can get the best results with an industry-specific or niche marketing agency. These types of agencies already know and excel at providing the services needed to thrive in this industry. For example, if you are a retailer and your industry is the kitchen business industry, you will need a marketing agency that provides appropriate services, such as reputation management, advertising, SEO, and social media management. Always consider an agency that can adapt to you and integrate different approaches for maximum results. Having a marketing agency that meets the specialized needs of your business is crucial.
The next step in evaluating your marketing agency is considering their pricing plans. Are they affordable? Do they offer a tiered pricing system? Can you add and subtract the services you need? Finding a marketing agency that can perfectly fit your budget is not a small feat, so having some flexibility and different pricing options is always welcome.
Last but not least in this section, would you enjoy working with them? Often this can be overlooked, but consider the fact that you will have to spend a substantial amount of time in communication with this agency. Is their personality a good match for you and your company? Do you have similar missions and visions when it comes to business and company culture? Walking in step with your marketing partner truly makes the work a breeze, so pay attention to your compatibility as well.
Reporting For Duty?
One of the best ways to ensure consistency, increase trust and keep up the accountability of your selected marketing agency is with an accurate and precise reporting system. Since you're investing a lot of money in your marketing efforts, you need to know exactly what the agency is doing to get you the results and ROI you agreed upon. So what should this report entail? We've got the deets.
Based on your specific pricing plan and the services you've selected, your marketing agency should provide you with monthly service and performance reports. The service reports should list every action taken by your marketing agency in the past month, for example, they can report how many GMB posts they've published on your behalf, add a list of blog posts with links, report on how many pages have been updated with new keywords, etc.
The performance report would go into more detail and measure specific metrics relevant to your business and the service provided. For example, they can give the exact numbers of paid and organic website visits compared to the previous month, get to the nitty-gritty of the average lead cost, and show the social media stats and the current keyword rankings as they compare to the past period.
An overview of the report should be available to you at all times, as well as sent directly to you on a monthly basis. This insight, along with all the necessary explanations and analysis is crucial to your marketing efforts. Evaluating your KPIs, ROI, and overall strategy and making adjustments based on the reports and results regularly is what can make the biggest difference for your business. Data is key and using it in a smart and efficient way separates the cream of the crop marketing agencies from the rest.
Communication Is Key
How available is your agency? Is the communication always transparent? Do you feel heard and understood? These are all important things to consider when you're evaluating or reevaluating a marketing agency. Effective and consistent communication with a reliable marketing agency is incredibly valuable. Knowing you can always reach your contact person at the agency and being treated with respect and courtesy should definitely be on your list of priorities when interviewing a new agency. Your account manager needs to have an excellent working relationship with you, understand your schedule, and address your concerns as they arise. Being transparent through the ups and downs and clearly voicing opinions should be a two-way street and any agency that can provide this would get a green light from us!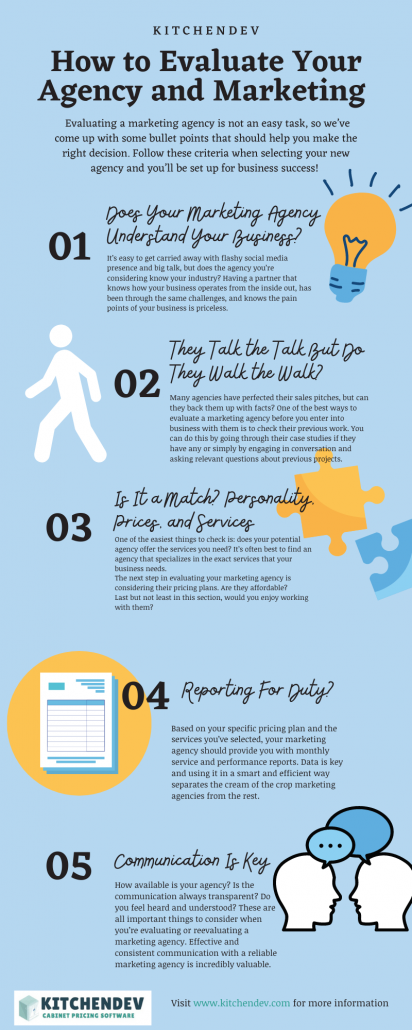 Do You Need Digital Marketing Services? Hire KitchenDEV!
KitchenDEV is a familiar name in the kitchen business industry. We have years of experience and a proven track record in implementing winning marketing strategies for kitchen retailers. We've gotten to know the kitchen industry inside out not only through our client work but through our own business ventures as well. KitchenDEV team is intimately familiar with the pain points and challenges of kitchen and bath retailers and manufacturers, so we can adequately respond and overcome them! But don't trust our word for it, check out our case studies and stellar client reviews! We are confident that we can provide the best marketing service for kitchen retailers. Hire KitchenDEV and let's skyrocket your business together! Contact us today.