Kitchen cabinet cost estimator is the right tool to use when you're looking to easily and quickly estimate the cost of a new kitchen.
Whether you are just starting to work on a new kitchen design for your customer or you need to compare prices of different kitchen designs because your customer is shopping around looking for the best deal, the cabinet cost estimator tool is something you need. It is a solution that makes your work as a kitchen cabinet dealer, kitchen designer, or salesperson in kitchen retail easier and simpler, while it gives your customers reasons for content — to easily and quickly figure out a financial range for their new cabinets and bring better and smarter decisions.
The final price of any kitchen will vary based largely on cabinet choices. Based on your customer's wish list, the kitchen cabinet cost estimator will calculate the costs and project estimates. This is how you will be able to help your customers bring well-informed decisions regarding the cost of their new kitchen.
To learn all about factors affecting kitchen cabinet costs, the process of estimating the cost of kitchen cabinets, and to find out what the best kitchen cabinet cost estimator available is, keep reading.
Factors Affecting Kitchen Cabinet Cost
While kitchen cabinets make up the largest part of any kitchen and as such largely affect the style and design of any kitchen space, they also make up the largest part of the total kitchen cost. If your customers are looking to replace their old kitchen cabinets or are set to design their new build kitchen space, kitchen cabinet cost will significantly determine the total cost of their project.
When asked "How much will my cabinets cost", there is no way that you'll be able to give a simple answer. Before answering, you'll need to consider various factors that determine the final kitchen cabinet cost. To help you cut to the chase and explain the process of determining the cabinet cost to your customer easily, we will break down the factors affecting kitchen cabinet cost.
Cabinet materials
Depending on the materials kitchen cabinets are made of, the cabinet cost can swing by at least 15 percent. Kitchen cabinets can be made of particle board, plywood, or real wood. Particle board and plywood are good solutions for those homeowners who need to keep the cost down. However, these materials come with their downsides. For example, particle board will soak up the moisture, and in that sense plywood is a better choice while still inexpensive or less expensive than cabinets made of real wood. Framed and frameless cabinets made of real wood are durable, long-lasting, and strong but also come at a higher price. Cabinet construction will also affect the quality of the final product and final cost.
Cabinet style and design
There are many different kitchen cabinet styles, designs, and colors that will affect the final price of the cabinets. Overall, the simpler the cabinet door style, the lower the price will be. However, when combined with material, size, construction, finish, and color, this doesn't have to be the rule. For example, there are minimalist contemporary cabinet slab doors that have a simple, straightforward look without any embellishments but are very high-end and expensive because of their quality. On the other hand, raised panels characteristic of classic, traditional cabinet door style can add about 20 percent to the cost. Shaker-style cabinets are considered medium-cost cabinets that fit with many aesthetic preferences and budgets. Also, don't forget to take the finish into account because whether the cabinets are painted or stained will make a difference in the final cost of the cabinets.
Cabinet hardware
Kitchen cabinet accessories like hardware – pulls, handles, and knobs – are a must-have for any kitchen. Their price can go high and low depending on the material they are made of, their finish, and how upscale they look. For example, wood and plastic hardware options are less expensive than stone and metal hardware options. When deciding on hardware, don't miss to mention to your customer that the size of their kitchen, the number of cabinets, and hardware installation will factor into the final cost. The size of your kitchen and installation costs will also play a factor. There are also some not-so-noticeable costs at first around hardware installation like hardware removal, painting, and re-sanding. They could add to the overall cost as well.
Cabinet size and configuration
A typical kitchen is approximately 10 feet by 10 feet and typically deals are given for this square footage. It can be considered an average size of a kitchen. However, for example, a 12 feet by 12 feet kitchen will have about 25 linear feet of cabinets which can cost up to $30,000. The larger the kitchen, the more will cabinets cost. or as much as $29,000. These are average kitchen sizes, but larger kitchens will cost more. Cabinet configuration will also affect the price. When it comes to the efficiency, functionality, and comfort of the kitchen, the configuration of the cabinets is very important. Minimizing the number of upper cabinets and replacing them with open shelving, and installing shallow floor-to-ceiling pantries instead of wall cabinets can bring the cost down.
Installation costs
The cabinet installation cost will add to the overall cost of kitchen cabinets. Installation of the cabinets alone will depend on several factors – the size and shape of the cabinets, location (the cost of cabinet installation is lower in small towns than in major cities), the type of the cabinets (custom, semi-custom, stock, RTA), and also, premium installers will charge more than your local cabinet installers. While the most frequently quoted cabinet installation price is 10% of the total cost of the cabinets, many cabinetry showrooms offer free installation if the products are bought with them. Other showrooms don't offer cabinet installation at all but will provide a trusted local contractor for the job.
Estimating Cost of Kitchen Cabinets
If the time has come for a meeting with your customer where you'll talk about the design, look, type, and cost of their new kitchen cabinets, you need a step-by-step guide to estimating the cost of kitchen cabinets. After all, it will all come to this and budget is often the most important thing when new kitchens are bought.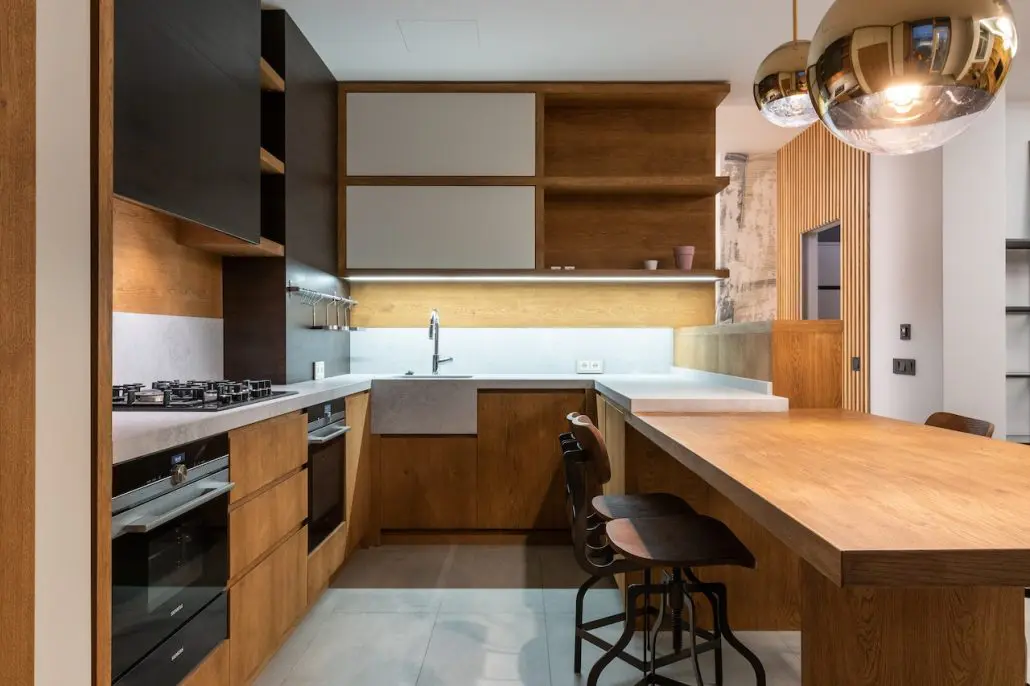 A step-by-step guide to estimating the cost of kitchen cabinets
This step-by-step guide provides the answer to the question of how to estimate kitchen cabinet costs. Before you start with an estimation of the cost of the cabinets, make sure you have established a rapport with your customer and that there is trust on both sides for the other side.
1st Step
Help your customer measure the height and width of all sections of the walls in their kitchen space where they plan to install cabinets. Don't forget to measure the space for an island if there is an intention of installing it. All measurements should be in inches.
2nd Step
Putt all heights together separately from all widths. To get the total number in square inches of the whole area that will be covered in cabinets, multiply the two sums. Since you need all the measurements to be in square feet, divide the amount you got by 144.
3rd Step
Make sure to share cabinet prices with your customer and explain them. Your customer needs to know about all the options you offer regarding cabinet brands, cabinet styles, cabinet materials, colors, and finishes. Once they know all possible options and their range of prices, your customer will select an option that they wish to continue with and get the final price.
4th Step
Help your customers choose the cabinets that fit best with their aesthetic taste, functional needs, and budget. Supporting them in striking the right balance between these three is very important. To give them the cabinets' approximate price, get the total number of square feet of the chosen cabinets that will be installed and multiply that number by the cabinets' price per square foot.
5th Step
Let know your customer if your team provides cabinet installation. If yes, do you provide free installation of the products purchased in your showroom? If not, are you able to recommend a trusted local contractor for the job? Can you let know your customer how much is the cabinet installation? Both you as a cabinet dealer and a contractor should be able to give an estimate based on the cabinet style and style, as well as on the square footage of the space where cabinets will be installed.
Considerations for installation and additional costs
During remodeling projects, there is always a possibility for things to get complicated or for emergencies to happen. Once you start stripping kitchen space from old cabinets and outdated installations, additional problems and, with them, additional expenses may occur. This is why it is always important to leave some amount of money aside for possible additional costs that you naturally don't count on at the beginning of the remodeling project.
These considerations for additional costs should be planned at the very beginning of the project. Cabinet installation costs can be overlooked by your customers because they may assume that this price is included in the price of the cabinets, so make sure to be very clear on this and help your customer plan their budget better.
Traditional method
The general, traditional method to calculate and provide a kitchen cabinet cost estimate is to simply consider the amount of square footage of the kitchen space area where the cabinets will be installed and the price of the cabinets. And so it's easy to conclude that RTA cabinets and stock cabinets are cheaper than semi-custom and custom cabinets. Installation costs can be very similar for stock cabinets and custom cabinets.
The process of remodeling a kitchen and purchasing kitchen cabinets usually and traditionally starts with an in-home appointment where cabinet dealers help homeowners take measurements of the area where the cabinets will be installed. Then a customer comes to the showroom and sees all the available types of kitchen cabinets and works with a designer on their new kitchen. Once they are set on their design, a designer provides their customer with a written calculation and estimate of the total cost.
However, in today's world where technology eases and simplifies so many processes, using a kitchen cabinet cost estimator as a tool that answers the question of how to estimate kitchen cabinet costs is a must.
Software method
As a cabinet dealer retail company, you invest time, money, and expertise in providing your customers with the best, most functional, and most beautiful kitchen cabinets. To ensure you provide top-notch value during the whole process of cabinet purchase to your customer, consider applying the cabinet cost estimator tool to your estimating phase of the process. Whether you own just one store or you're a well-established and widely known cabinet retail company, a new kitchen cabinets cost estimator software will add great value to your business.
New and innovative software methods to estimate kitchen cabinet costs will, besides covering the costs, generate healthy, considerable profit. Fortunately, such an advancement in technology of cabinet cost estimating is available to all US cabinet retail stores and companies. KitchenDEV provides effortless cabinet pricing and ordering solution for stock cabinet catalogs.
How to Estimate Kitchen Cabinet Costs with KitchenDEV?
KitchenDEV provides a software kitchen cabinet cost estimator solution for all kinds and sizes of kitchen cabinet retail businesses – from single-location cabinet dealers to multi-location, big-box stores. KitchenDEV kitchen cabinet cost estimate solutions are customizable and effective in helping retail businesses organize and estimate kitchen cabinet costs quickly and easily.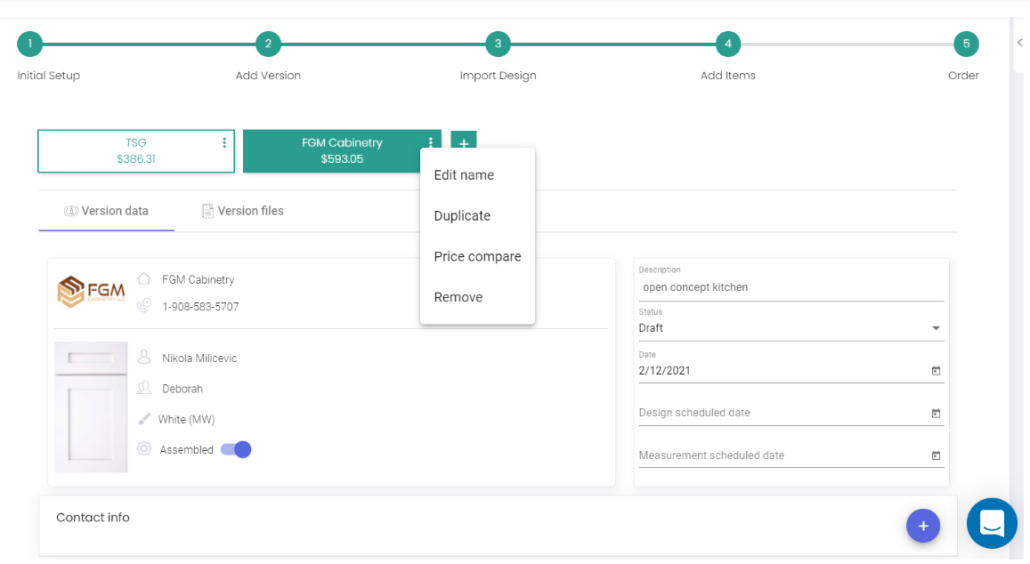 Here are the basic steps you will go through with the KitchenDEV kitchen cabinet cost estimator:
1. Import kitchen designs to price and order
Our application can import 2020 designs and easily price them. What sets us apart from the 2020 Design software pricing capability is the fact that with our application you are able to create a proposal and have each member of your sales and design team see and work on the proposal together. You are also able to automatically convert designs into different styles or create versions.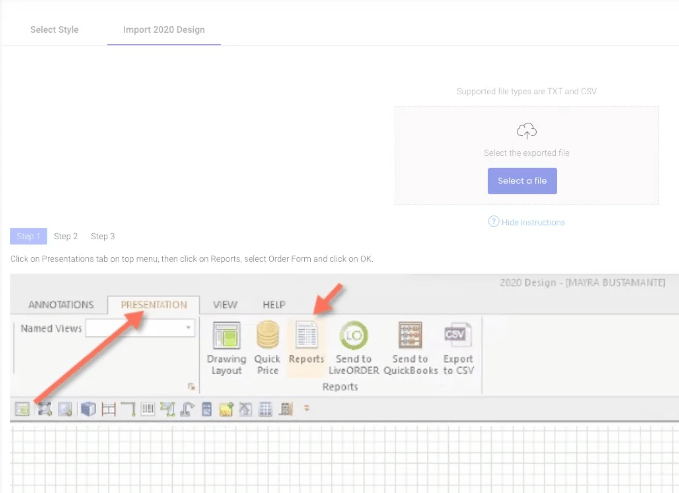 2. Create quick estimates and proposals
Creating kitchen cabinet cost estimate is easy with this particular KitchenDEV feature. It includes advanced proposal features such as style and vendor price comparisons, and layout variations for advanced customer requirements. There is also an ability to duplicate proposals to quickly price multi-apartment kitchen cabinet sales for larger, multi-unit projects. Multiple filters and views give managers and designers a clear picture of the sales pipeline.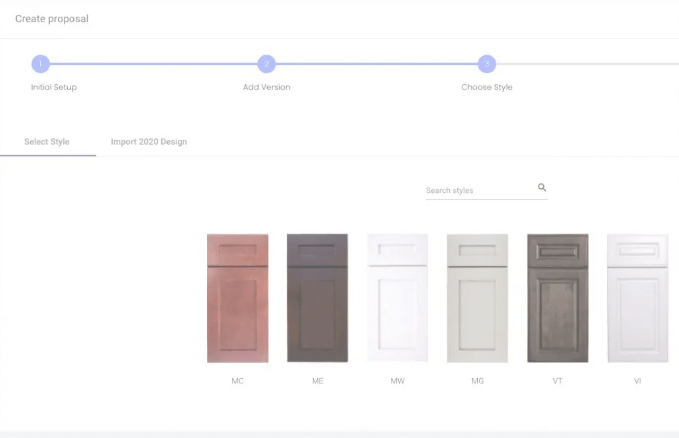 3. Export proposals into the accounting system you're already using
Once you price a kitchen design and provide a proposal for your customer, you can export it into Quickbooks, Acumatica, Netsuite, or another accounting system for invoicing.
4. Manage orders and RMA's
Being able to track your cabinet orders and provide your customers with an accurate lead time for delivery is very important and crucial when it comes to the satisfaction of your customers. This is how KitchenDEV new kitchen cabinets cost estimator tool helps you delight your customers and gain new ones. With it, you can also track returns with your cabinet manufacturers. You'll see how each order goes through a sequence of steps. The KitchenDEV cabinet pricing application gives you a clear picture of each order status, making your job easier.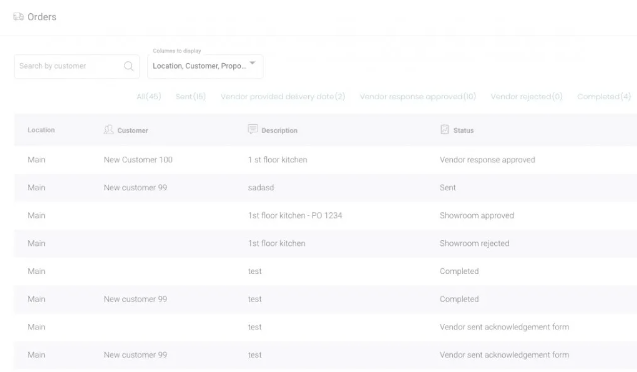 Why Use KitchenDEV as a Kitchen Cabinet Cost Estimator?
KitchenDEV Cabinet Retailer Suite brings multiple benefits to cabinet sales professionals:
Easy import of 2020 design

for simple processes of pricing cabinet parts, adding custom modifications and charges, and creating customer proposals.

Quick proposals and estimates

for walk-in customers.

Advanced proposal features

, such as style comparisons and layout variations for larger projects.

Establishing easy communication

with your cabinet manufacturer and your customer whenever you need it. Updates are available for you to see and track as the cabinet order progresses. You can also reach out to the cabinet manufacturer using the app for any questions.

Easy and simple cabinet orders and returns

from cabinet manufacturers where order status and lead time are visible at all times.

No advanced training is needed

to start successfully using the KitchenDEV cabinet cost estimator tool.

Sleek user interface

where you can easily import SKUs from the 2020 design or manually enter them.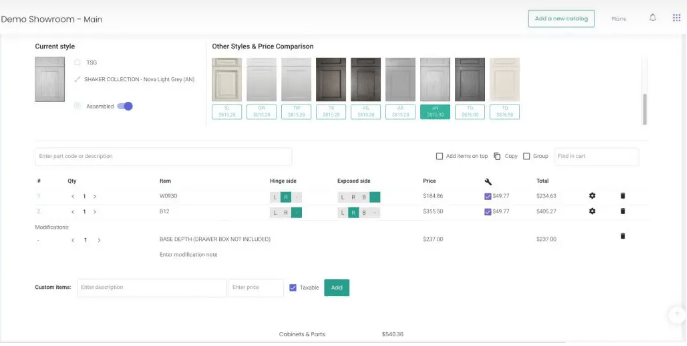 KitchenDEV helps kitchen retail businesses work smarter and exceed their goals for a couple of years now. For example, Aqua Kitchen and Bath's success story tells how this cabinet store situated in Wayne, New Jersey, managed to transform its customer service, as well as pricing and ordering processes in less than 5 months by using KitchenDEV. "Cabinet Pricing & Ordering software saves time, makes us more confident with data, and prevents second guessing", says James, a designer at Aqua, "It can get really busy in the showroom, and it's easy to forget and lose track of stuff. With KitchenDEV, we can now easily track everything."
Another success story by Home Art Tile Kitchen & Bath cabinet store located in Long Island City, NYC, tells how these cabinet sale professionals boosted their revenue and increased productivity and efficiency by 40% with the KitchenDEV kitchen cabinet cost estimator. In less than 4 months, Home Art Tile saw significant improvements in staff productivity, process effectiveness, and the number of sales. Working with customers on the KitchenDEV app rather than on multiple Excel files and printed books, helped them to professionalize their work.
Hire KitchenDEV for Kitchen Cabinet Cost Estimation
How to estimate kitchen cabinet costs?
With KitchenDEV kitchen cabinet cost estimate tool, of course!
Cabinet Pricing and Ordering application by KitchenDEV was launched in December 2018 and right now it is on version 3.5. We have a great and long experience working in the kitchen industry both with cabinet dealers and cabinet manufacturers. This gave us a specific, focused experience and motivation to develop a tool that will make work easier, quicker, and simpler for everyone.
KitchenDEV gives cabinet dealers a complete solution to manage end-to-end flow, from pricing cabinets to orders and returns. Our solution grew to become a premium sales automation software tailored specifically to the kitchen industry and the needs of professionals who work in it. Component-based and flexible to meet various needs, it is a B2B solution that can conveniently integrate with cabinet retailers' existing inventory, accounting, and other systems.
Check out our Cabinet Retailer Suite and contact us for a walk-through and demonstration of our cabinet cost estimator tool.
Conclusion
KitchenDEV is your best solution for a kitchen cabinet cost estimator. Our dealer portal allows you to easily automate your cabinet orders and SKU mappings, import 2020 kitchen designs, track jobs, easy cabinet pricing process and easy cabinet price comparisons, customer management, and proposal export to Quickbooks, Automatica, and Netsuite. You won't find another cabinet pricing and ordering solution that will offer you all of this in one place and automate as many processes as possible.
Streamline your cabinet sales operations and improve your company's overall efficiency. Let us show you how you can reduce and even eliminate errors, save time and labor, and optimize your cabinet order processing. Contact us now.