Kitchen inspiration ideas for your projects — modern kitchen inspiration, small kitchen inspiration, and kitchen cabinet inspiration — to make your projects go smoothly from start to completion. Create perfect kitchens with our collection of kitchen inspiration ideas. Whether you need to design a new kitchen from scratch, to recommend the best kitchen cabinets, to design a smart small kitchen space, or just to tackle a kitchen and give it a specific, but much-needed update, we have the best and most exciting kitchen inspiration for you.
Whatever your next kitchen project in 2019 is, here you will find the best kitchen inspiration ideas for any need, style, and budget.
Ready to get started?
Browse through our kitchen inspiration ideas below and find a wealth of unique, modern styles for timeless kitchens that will inspire and excite for years to come.
Kitchen Inspiration to Redesign Dated into Timeless
The kitchen is the most important room in any home. This is not only because we prepare food in the kitchen. It is mostly because we spend most of our time there. All of our most important activities are going on in our kitchens. This is the room where we cook, eat, entertain, socialize with friends, and spend precious moments with our family. While we cook dinner after a long workday, our kids do homework in the kitchen. We enjoy our coffee and read our favorite book sitting next to the kitchen window while our partner prepares Sunday breakfast. How many more family activities that happen in your kitchen can you think of?
This means that the best kitchen design for a busy family home needs to fulfill many requirements. From phenomenal functionality to pleasant, remarkable style, a bespoke kitchen design needs to inspire and fit all budgets. The most successful kitchen remodel projects will streamline kitchen space in a way it makes the most of every corner, increases its functionality and quality, and refreshes its looks in a unique way. The busiest room in any home should always be up to date, ready to become the real hub every modern family needs.
Whether you need to revamp a dated kitchen with new kitchen cabinets or you need to rebuild a complete kitchen space, from floors to the ceiling, you will find the best kitchen inspiration ideas for your kitchen remodel projects in 2019 right here.
Modern Kitchen Inspiration Ideas
Kitchen renovation projects are always a smart idea for many homeowners. If they want to increase the value of their home, investing in a new, cutting-edge kitchen will increase the value of any home tremendously. Even just adding a kitchen island can make a big difference and present a great investment for the future. However, sometimes, simply wanting new, modern, and stylish, is enough to spark some of the most inspiring kitchen remodel projects.
Some modern kitchen design ideas include flat-panel cabinets, fresh, stark white color, discrete gold tones, and leading-edge countertops, just like this modern kitchen. A gold and blue island with white marble slab countertop and white flat panel cabinet front doors take modern kitchen inspiration to the next level.
A combination of black and white is timeless. Just as it still works in traditional kitchen design, it also creates some of the most refreshing modern kitchen designs. This two-toned modern kitchen features upper kitchen cabinets with white flat doors and bottom cabinets in black. Cabinetry is paired with white quartz countertops and white, glossy backsplash. This modern kitchen inspiration is illuminated by a pair of contemporary chrome light pendants.
A combination of white cabinets and marble countertops works flawlessly and equally well both in traditional and contemporary kitchens. This fresh and bright modern bistro kitchen features a white and gray marble countertop, white shaker cabinets, and brass pulls. Shiny porcelain tiles and two modern looking chandeliers create a stunning modern kitchen inspiration.
Using the same material for both countertops and backsplash is an idea that will create a perfect flow in any kitchen. This modern kitchen design features inset cabinets with gray and white marble backsplash and countertops. Stainless steel appliances are another staple in any modern kitchen space, paired wonderfully with everything else in this kitchen's decor.
Small Kitchen Inspiration Ideas
Remodeling small kitchen spaces are often the most challenging renovation projects. Even small kitchens need the maximum of kitchen storage and a functional layout. Great small kitchen inspiration ideas will maximize functionality and save space at the same time. With a small kitchen design, it's all about working with the kitchen space layout. Whether it's a small U-shaped kitchen space or a single-wall kitchen, great designers will manage to find the right solutions to add style as well as storage.
Whether you decide to remodel a small kitchen by adding a prep area, installing folding doors to close it up, adding seating, or a floating table, here are some small kitchen inspiration ideas to power up your remodel projects in 2019.
White color is always a good choice for a small kitchen design because it opens up space remarkably. Although small kitchen designs usually don't have islands, this small white kitchen features a small white island and a raised marble breakfast bar.
This small white kitchen features an island peninsula with white quartz countertops. White shaker cabinets and white herringbone backsplash tiles make the kitchen bright while brass cabinet pulls and stainless steel appliances add cutting-edge details for a high-end look.
Planning small kitchens usually means putting an accent on creating smart storage space. This small walk-in kitchen pantry features white shelves over a wood countertop.
Create a small kitchen design that will remove all the clutter from the countertops. Custom cabinets with folding cabinet doors can hide small appliances.
Kitchen Cabinet Inspiration
Kitchen cabinets can make or break any kitchen design. How the kitchen looks and feels will mostly depend on the cabinets. Kitchen cabinet design can also provide smart ways to create a dream kitchen. The style of the kitchen will also dictate the kitchen cabinet style choice. Choosing between shaker cabinets, traditional style cabinets with raised panels, or modern flat cabinets will always be a matter of personal taste and current interior design trends.
These kitchen inspiration ideas feature gorgeous kitchen cabinet styles that will easily inspire your kitchen renovation projects in 2019.
Gray kitchen cabinets were big in 2018 and will continue to be in 2019. These gorgeous shaker style cabinets feature long nickel pulls. In combination with white glossy glass subway tile backsplash, a classic kitchen cabinet style gives an irresistible modern flair.
Black kitchens make the ultimate statement of luxury and class. A timeless kitchen cabinet inspiration, these chic black kitchen upper glass cabinets, and lower cabinets in black color. Polished brass hardware, white subway backsplash, and white marble countertops take a breath away.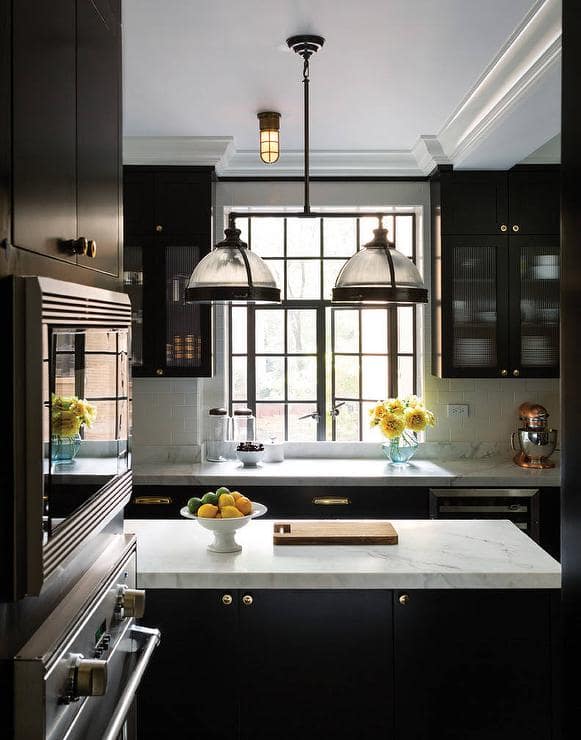 Two-tone cabinets were an absolute hit in 2018 and will continue to be one of the most favorite kitchen inspiration options in 2019, too. Flat kitchen cabinet fronts come in two colors in this modern kitchen. Lacquered upper cabinets come in glossy white color while lower cabinets feature a calming, deep shade of green color.
Marine blue kitchen cabinets are everyone's favorite kitchen cabinet inspiration. White and gray marble countertop pairs wonderfully with floor to ceiling blue shaker cabinets and an antique brass gooseneck faucet. Rippled glass panels reveal more discrete display space.
Kitchen Backsplash Ideas
Kitchen backsplash will protect your wall from liquids and spills but it can also make your kitchen space look beautiful. You can make it a focal point of the cooking space you're remodeling or you can decide to let it merely set the right tone and ambiance. Various kitchen backsplash ideas can be used to reflect an owner's personal style and personality.
Depending on the type and the style of the kitchen you want to achieve, you can choose among many colors, shapes, and materials. Kitchen backsplash tiles can come as penny tiles, timeless subway tiles, classy arabesque, laid out in a herringbone pattern, or as a mosaic. Options are endless.
Here are some of our ideas to inspire your kitchen remodel projects.
You can use kitchen backsplash to balance other kitchen elements and make them flow better. In this modern kitchen inspiration design, gray glazed tiles are laid as a horizontal backsplash to deliver a sleek, simple look. They perfectly complement white shaker cabinets and dark kitchen island.
A kitchen backsplash can go all the way to the ceiling and still create an elegant, classy look. Subway tiles made of white marble bring a charismatic impact to this all-white kitchen space.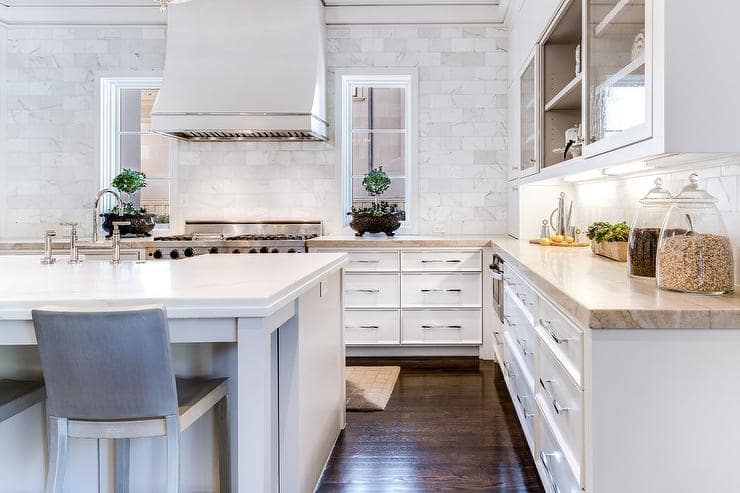 A small tile backsplash can create an amazing focal point in the contemporary kitchen. This marble hexagon tiled backsplash pairs wonderfully with a silver range hood and black stove.
White arabesque tiles layered on white subway tile give out an iridescent look and contemporary yet classy appearance.
Kitchen Countertop Ideas
Countertops are, beside cabinets, one of the most important and the most hardworking parts of any kitchen. When choosing the best countertops, their durability and ease of maintenance are the first things to think about. However, beautiful design is also required in any modern kitchen. Find something stain-resistant and easy to maintain but also choose a design that will take everyone's breath away.
Natural stone is a timeless choice for any kitchen design. Statuary Calacatta marble has a beautiful, simple but classy design, that can easily work anywhere in the kitchen. In this kitchen, Calacatta Marble countertops are fitted with a stainless steel sink and a polished nickel gooseneck faucet.
Combining two different types of countertops in the kitchen is one of the most exciting kitchen countertop ideas. Play with colors and materials, and create bold contrasts. White quartz countertop and black leathered granite countertop make a gorgeous look in this kitchen.
Go with black for a timeless, luxurious look. The combination of a brass faucet and a sleek black marble countertop creates an ultimate high-end kitchen inspiration design.
Timeless Kitchen Inspiration for Superior Remodel Projects
Modern kitchen design inspiration starts with the best kitchen cabinet ideas, kitchen backsplash ideas, kitchen countertop ideas, and kitchen tile ideas. All of these elements should be composed well in order to give a unique decor that will inspire and move people who work and live in these spaces. The best thing is that everyday kitchens can be transformed into exquisite showcases of style and timeless elegance.
From traditional and casual to modern and sleek, our kitchen inspiration ideas will give you all the inspiration you need to make your next kitchen renovation project a success.
For ultimate ease in kitchen design, try our kitchen design tool to impress your clients, and envision realistic designs. To plan your projects better, give more precise proposals and estimates, and kickstart your kitchen renovation projects faster, try our Estimating Software. All our tools were custom made with one goal in mind — to make designing of the most important room in any home fun and enjoyable.