Faircrest Cabinetry has a large collection of RTA (Ready-to-Assemble) kitchen cabinets which enables you to have quality, functional, and beautiful kitchen cabinets at a lower cost. By assembling kitchen cabinets at home, you're able to save while getting high quality, versatility, and beauty. You can become a Faircrest Cabinetry dealer by completing the form on their website with your business information. Once the cabinetry manufacturer receives your dealer application, they will review it and process it within one workday. When you're activated as a dealer, they will contact you for dealer pricing.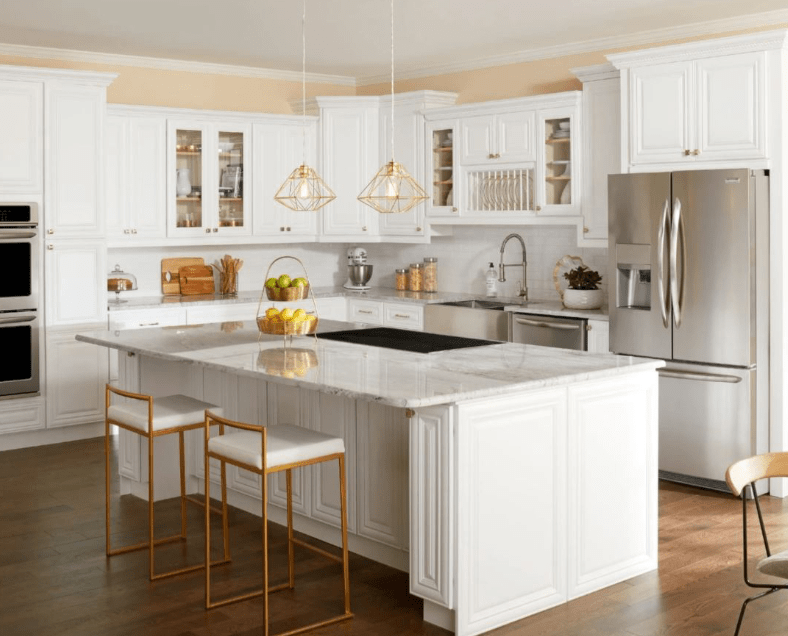 Who Owns Faircrest Cabinetry?
Faircrest Cabinets is a brand and a trademark of Clark and Son Inc of which Jay Barkheimer is the president.
Where Is Faircrest Cabinetry Made?
Faircrest Cabinets manufacturing company is located in East Sparta, Ohio, a community near Canton, Ohio.
What Is The Quality of Faircrest Cabinetry?
Faircrest Cabinetry is RTA, which means that once you order them for your customers, they will need to assemble the cabinets at home. But this is exactly the reason why the price is lower than you would expect for the quality, functionality, and beauty they provide. Some of the Faircrest Cabinetry products specifications are real wood, maple or birch, solid wood cabinetry doors, raised panel or shaker style, engineered HDF construction, solid plywood box drawer glide, under-mount soft close, 5-piece drawer head that matches door profile drawer box solid wood dovetail, adjustable shelves hinge, soft close 6 way adjustable concealed hinge, full overlay, color matched box and shelves, natural drawers cabinet exterior color matched. All of these specifications make Faircrest Cabinetry an excellent choice for any kitchen remodeling project.
How Much Does Faircrest Cabinetry Cost?
Faircrest Cabinetry comes at a lower price point because it is an RTA (Ready-to-Assemble) type of cabinetry, which means that customers will need to assemble them at home. This lowers the price while providing excellent quality, functionality, and beauty. Their Aspen White, Bristol Chocolate, Espresso Shaker, Hickory Shaker, Mocha Dark Glaze, Platinum Shaker, Rev-a-Shelf, West Point Gray, White Shaker, and Winchester Shaker cabinetry options will amaze you with gorgeous looks at affordable pricing.
Faircrest Cabinetry Reviews
Homeowners praise the quality and looks of Faircrest Cabinets, especially their ability to transform a kitchen from dark and dreary to a light and airy transitional kitchen. Some of the reviews also say that this cabinetry also adds functionality and exquisite style to any interior decor. Besides great quality materials, construction, and finishes, customers also brag about Faircrest's ease of assembling and premium customer service.
How To Become a Faircrest Cabinetry Dealer in 2023?
Use KitchenDEV to become a Faircrest Cabinetry dealer anywhere in the US. We have added the new Faircrest Cabinetry catalog to KitchenDEV, just as we continually improve and regularly update all cabinetry catalogs available in our app. The latest releases and updates for the Faircrest Cabinetry catalog are available in the KitchenDEV Cabinet Pricing & Ordering software. Cabinet dealers now have an easy way to price Faircrest Cabinets, order, and communicate when they wish to use Faircrest Cabinetry products for their projects. Contact us now.
How KitchenDEV Helps You Work With Faircrest Cabinetry?
As soon as Faircrest Cabinetry catalog 2023 became available, it is immediately imported and published in the KitchenDEV Faircrest Cabinetry Catalog as well. This enables dealers to have always up-to-date catalog content that is impeccable and accurate. After you fill in all the initial data and create a proposal version, you can select various Faircrest Cabinetry door styles, including the latest ones, by uploading exported designs from 2020 Design Software or ProKitchen design software by pressing Select Door Styles to choose from the KitchenDEV database manually. To add Faircrest Cabinetry and parts to your cart, filter items by part code or description. This is how Faircrest Cabinetry dealers get full access to the best, most complete, and easy-to-use resource for each project when they wish to use Faircrest Cabinetry products.
If you are a cabinetry manufacturer, contact us to add your cabinetry catalog to KitchenDEV.