Mobile Application for Warehouse Employees
Kitchen cabinet manufacturing warehouse management solution that optimizes essential workflows, accelerates vital processes, and minimizes errors is available on Apple Store.
GET IN CONTROL OF YOUR WAREHOUSE OPERATIONS
Warehouse logistics customized specifically for the kitchen cabinet industry streamlined to deliver excellence — a convenient, reliable, and productive user experience.
KitchenDEV Manufacturer warehouse management mobile app allows you to streamline the processes of inventory management, shipping and receiving, order management, and purchase order workflow. Fully integrated with Cabinet Pricing & Ordering ERP, this new generation warehouse management application that can be handheld with your mobile device is built for cabinet manufacturers who use our ERP, providing them with expanded functionality.
KitchenDEV Warehouse Management Mobile App Features
KitchenDEV warehouse mobile app is a complementary application to the Cabinet Pricing & Ordering software that helps warehouse managers seamlessly and easily scan items, collect and scan items for orders, scan and mark orders while assembling them, ship and receive, control and keep track of the inventory through their mobile devices.
Information collected in the KitchenDEV mobile warehouse app is instantly updated in KitchenDEV ERP to improve precision, productivity, and customer service.
Warehouse Operations Made Simple In the Palm of Your Hand
Warehouse employees scan barcodes generated by the KitchenDEV warehouse management system mobile app when collecting, assembling, and loading cabinets for delivery. This automatically sets the order status and office admins are able to track the orders in real-time, providing their customers with accurate estimates for delivery or pick-up.
Our Stock Cabinet Pricing & Ordering app already offers a powerful back-end system with cloud-based access, and integration with your existing inventory, ordering, accounting, and other systems. Mobile Application brings these elements into your warehouse, at your fingertips. As a result, order and inventory management on-the-go for cabinet manufacturers has never been simpler.
Create Your Own Manufacturer Account on KitchenDEV & Start Using the App
Start using our cabinet manufacturer warehouse management app for better collaboration, greater accuracy, and impeccable insight into warehouse activities by creating your own Manufacturer account.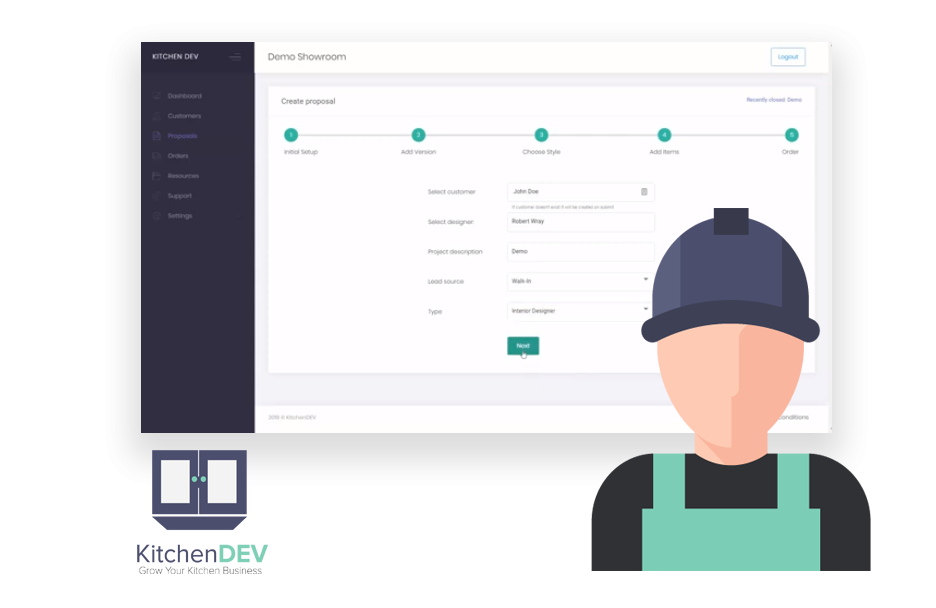 Are you currently using the Cabinet Pricing & Ordering app?
In case you're not a current Cabinet Pricing & Ordering user, and you'd like to further understand the combined power of ERP and Warehouse management mobile app, please contact us.