Green Forest Cabinetry features many lines of beautiful, highly functional, and smart custom cabinet options that fit any modern home with pricing that fits any budget. With a wide range of cabinetry styles, finishes, and colors, Green Forest Cabinetry manufacturer provides quality build characteristics that make the cabinets sturdy and durable, which enables them to serve you for many years to come.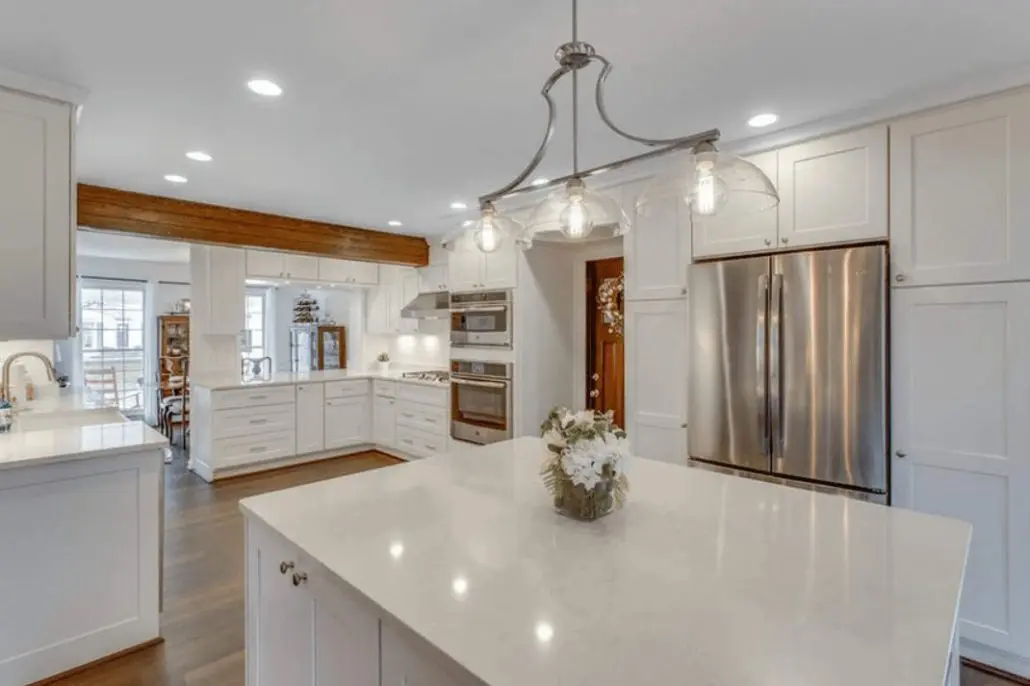 Who Owns Green Forest Cabinetry?
John K. Morgan is an investor and CEO of Green Forest Cabinetry who is continually giving back to the kitchen & bath community.
Where Is Green Forest Cabinetry Made?
Green Forest Cabinetry is based in Chesapeake, Virginia. You can reach them at 757-485-9200. The company boasts the "incorporate" character of their business, claiming that simple is affordable, bringing quality and value into American homes.
Green Forest Cabinetry Specifications
Having in mind homeowners' needs and requirements, Green Forest Cabinetry offers value-priced kitchen cabinets of high quality. Their cabinetry products are all-wood cabinets, assembled ingeniously thanks to advanced engineering. Their innovative locking joint system enables the easiest, simplest, and fastest cabinet assembly process in the kitchen cabinetry business. All framed Green Forest Cabinetry products are soft-close. Some of the Green Forest Cabinetry specifications are solid wood, dovetail, 1/2″ bottom & soft-close drawer boxes, all-plywood cases, Sherwin Williams finishes, real wood interiors, and exteriors of cabinets' boxes and shelves. Many modern features, attractive lines, and trendy colors make Green Forest Cabinetry truly special and very much sought-after in the world of kitchens.
Green Forest Kitchen Cabinets Reviews
Customer reviews of Green Forest Cabinetry mostly say that each and every cabinet is well-built and of the highest quality, with excellent fit and finish. They highly recommend Green Forest Cabinets. Customers also describe the company as a go-to cabinet company for all of their kitchen and bath projects, whereas they value quality, craftsmanship, and excellent customer service. Professionalism, attention to detail, and responsiveness are mentioned as some of the most distinguished characteristics of the Green Forest Cabinetry design and sales specialists.
How To Become a Green Forest Cabinetry Dealer in 2023?
Use KitchenDEV to become a Green Forest Cabinetry dealer anywhere in the US. We have added the new Green Forest Cabinetry catalog to KitchenDEV, just as we continually improve and regularly update all cabinetry catalogs available in our app. The latest releases and updates for the Green Forest Cabinetry catalogs are available in the KitchenDEV Cabinet Pricing & Ordering software. Cabinet dealers now have an easy way to price Green Forest Cabinetry, order, and communicate when they wish to use Green Forest Cabinetry products for their projects. Contact us now.
How KitchenDEV Helps You Work With Green Forest Cabinetry?
As soon as the Green Forest Cabinetry catalog 2023 became available, it is immediately imported and published in the KitchenDEV Green Forest Cabinetry Catalog as well. This enables dealers to have always up-to-date catalog content that is impeccable and accurate. After you fill in all the initial data and create a proposal version, you can select various Green Forest Cabinetry door styles, including the latest ones, by uploading exported designs from 2020 Design Software or ProKitchen design software by pressing Select Door Styles to choose from the KitchenDEV database manually. To add Green Forest Cabinets and parts to your cart, filter items by part code or description. This is how Green Forest Cabinetry dealers get full access to the best, most complete, and easy-to-use resource for each project when they wish to use Green Forest Cabinet products.
If you are a cabinetry manufacturer, contact us to add your cabinetry catalog to KitchenDEV.